Inexpensive yet valuable
One of my favourite bikes is this Merlin TDB. I bought this one from Ebay a fair few years ago as a frameset, building it into a full bike using spares from the parts bin and some cheaply sourced extras. Merlin Cycles UK produced, or probably imported and re-branded, this frame set back in 1997. It's a steel frame with a nickel coating and a cool twisted fluting to the downtube. The TDB in the name stand for Tange Double Butted, Tange the brand, Cro-Mo the material Double Butted meaning the tube wall thickness is increased at either welded end, reducing weight and keeping strength. The frame really caught my eye, and this 19″ variety was my size. Click, won, mine.
I had a pair of Mavic D521/Shimano Deore wheels from a previous buy, split, sell Ebay find, these would be perfect if a little heavyweight and beefy for an everyday pub or shops go anywhere anytime bike. Chainset and mechs are Shimano STX SE, the bronzed version. Shifters and V brake Shimano XT.
I used to be a ride leader for Skyride UK, a national push to get people out riding. We had great fun taking public groups on rides and routes that we pre-planned. Riders of all ages and abilities on all manner of 2 wheeled steeds. My TDB was used for ride leader duties and I dressed it in bright yellow accessories…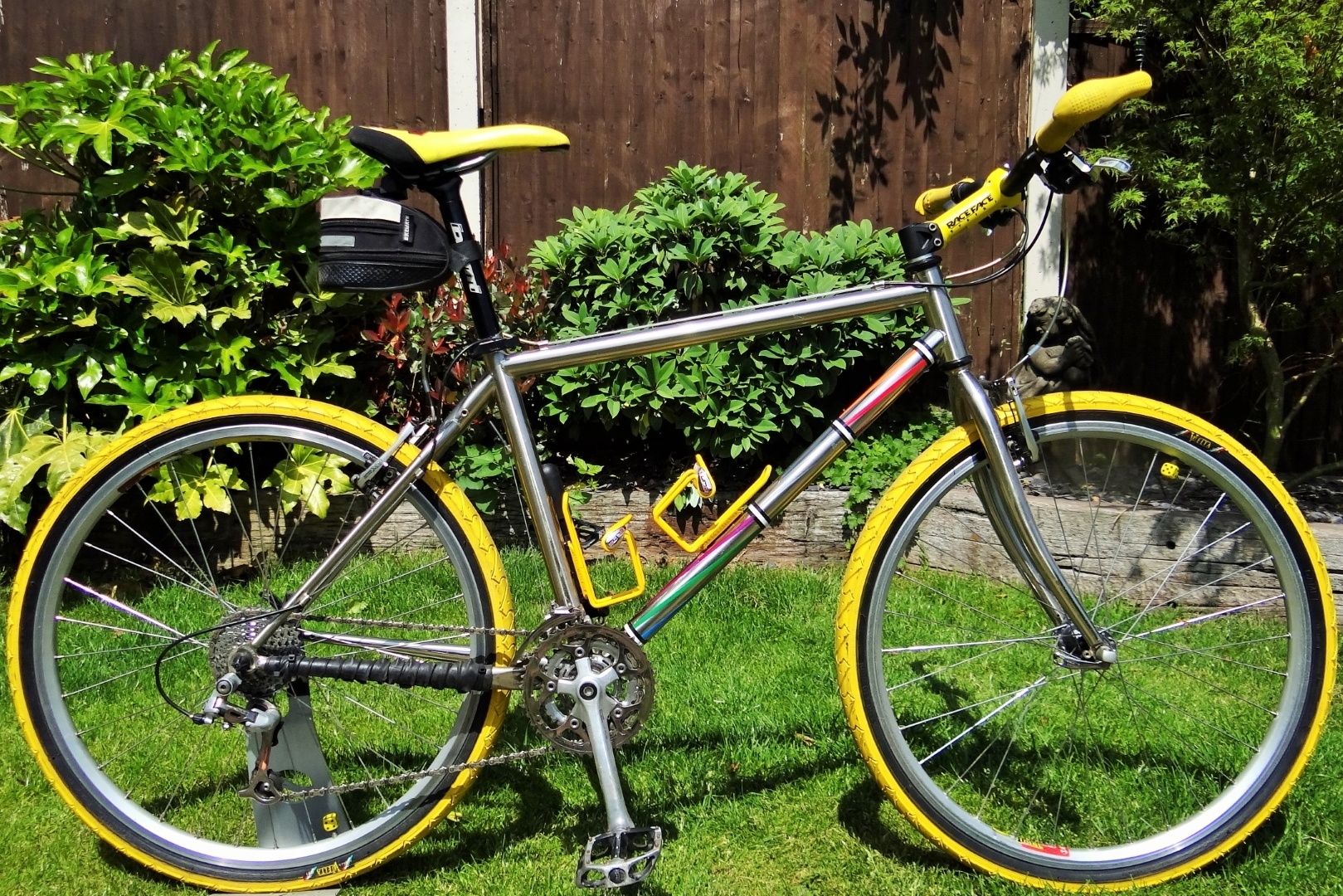 All of these yellow parts and accessories were bought from Ebay, I bided my time and bought as cheap as possible, this was not a bike I was going to invest heavily in. Vuelta semi slick tyres, Race Face stem, Ciussi Elite Bottle cages, Serfas Lola saddle, lock on grips and unbranded bar ends, and a couple of dice dust caps for old school cool. The fluted downtube I highlighted with some colour tape strips, twisting around the tube as it angle down. It was bright, it stood out in a crowd, it served its purpose.
Fast forward a few years and the bike is now used for shopping trips, greenway and towpath rides and journeys to the pub. The yellow parts have stepped aside, replaced with a neutral silver and brown colour scheme.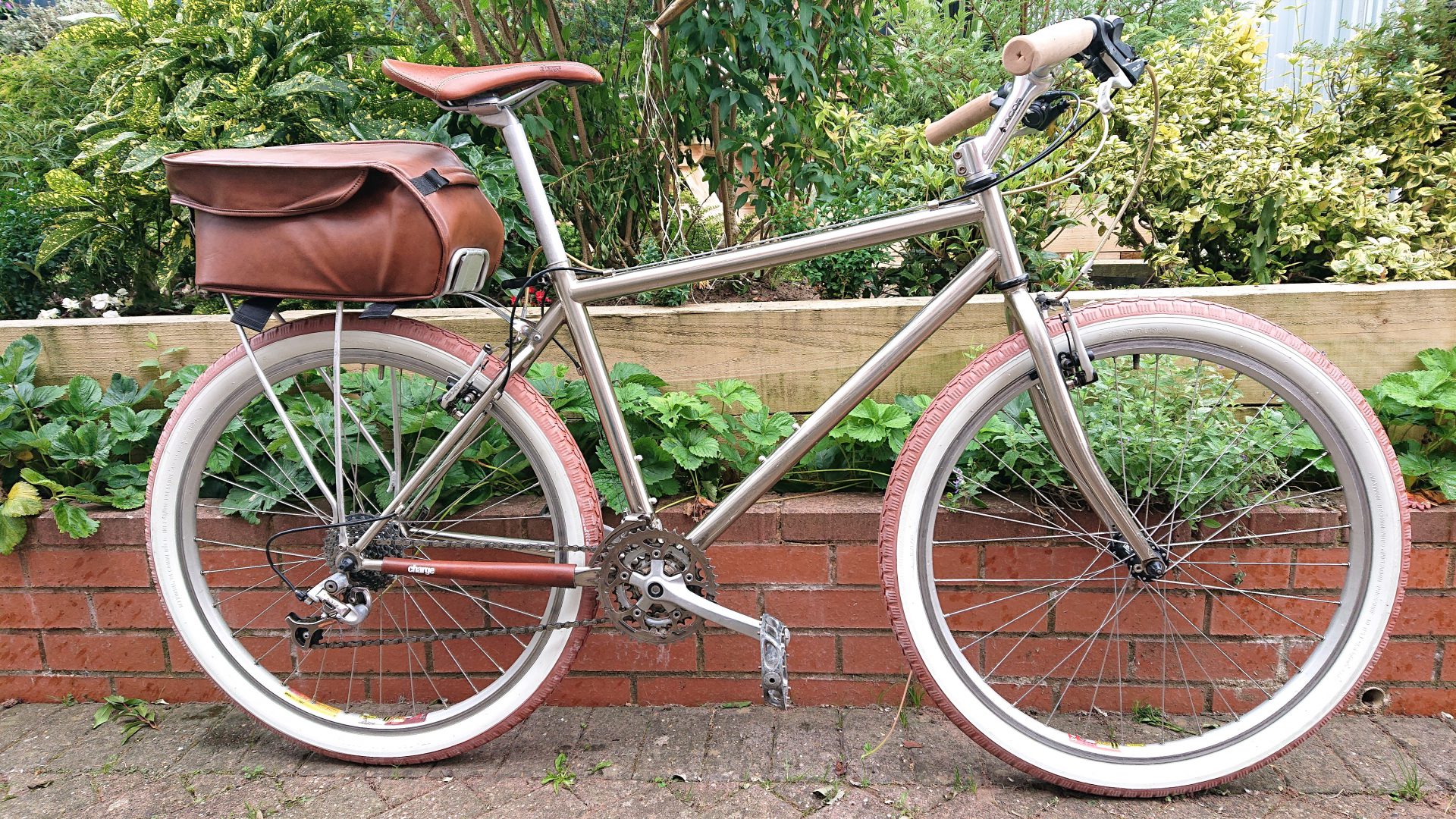 Another Ebay bargain find, a Charge Spoon saddle, leather rear bag and leather chainstay guard, all in matching brown. A pair of cheap wood effect grips. An Acor high rise stem and back-swept north road style bars. The tyres were being sold off at On-One cycles and I snapped those up a while ago knowing I'd use them at some point, and here they are looking grand on the TDB with silver bars, stem and seatpost.
The bike rides like a dream, it's a joy. Smooth and quiet. The high rise stem adds an upright position allowing for casual riding in style. All bikes need a bag, so handy. The only thing left for me to add to my TDB is mudguards, I have a couple in metallic silver plastic, and will add them just as soon as I make some stays that fit.
One of my favourites, this Merlin TDB. A retrobike still running, looking and lasting like the day it was created.